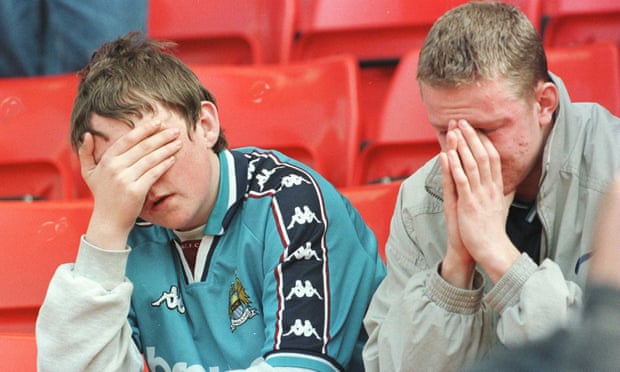 ….and he was right. It was worse. Those were the words I heard walking out of a League Cup tie in 1995, with my beloved Manchester City losing 4-0 to Liverpool at Anfield. We visited again on Saturday for a league game and lost 6-0. This was one of many instances that summed up Manchester City during the 1990s.
Growing up as a blue wasn't easy. Whilst 'them up the road' were winning all before them, City seemed to lurch from crisis to crisis, and everyone at school was only all too happy to point that out. If they pitched a Hollywood film about City's exploits during this decade, I honestly think it would be rejected for being too unrealistic. So here, I take a look at some of the major events that shaped my childhood, and my club, during the 1990s.
Forward with Franny
I remember the protests well. Fans gathered around the main entrance at Maine Road, calling for the (proverbial at least) head of chairman Peter Swales. Eventually, they would get their wish, but things didn't exactly go as planned.
As the saying goes, be careful what you wish for.
Swales served as City's chairman for a little more than 20 years. His chairmanship began just as City's glory years were drawing to an end. They'd last won the league title in 1968, winning the FA Cup in 1969 and the Uefa Cup Winners' Cup in 1970, with Swales taking the helm in 1973. The only trophy that came under Swales was a League Cup in 1976, the last major trophy that the club would win for the next 35years. Swales hired and fired a total of eleven managers during his tenure, but City of a club never seemed to move forward.
By the time 1993 came around, the Premier League was in full swing and City, for their part, was treading water. However, there was a growing appetite for change at the top, and many threw their weight behind City legend Francis Lee and his bid to buy the club. Finally, in early 1994, Lee's takeover of the club was completed, and he assumed control with some bold words, claiming, "This will be the happiest club in the land. The players will be the best paid, and we'll drink plenty of champagne, celebrate and sing until we're hoarse".
In reality, Lee's time as chairman was an unmitigated disaster. From spending millions on a stand that was demolished just eight years after being built, sacking an attack-minded manager and replacing him with Alan Ball, dragging the club further and further into unmanageable debt and, of course, setting off a chain of events that would push the club to the lowest ebb in its more than 100-year history.
At an AGM during the 1997/98 season, Lee stated that he would "Jump off the Kippax" if City were relegated. He would step down as chairman before the end of that season, being replaced by David Bernstein, who had been on the City board since Lee purchased the club. He did not jump. City was relegated.
On a sombre note, it is said that Peter Swales never recovered from being ousted from the club he loved. He died at the age of 63 on 2nd May 1996, just three days before City were relegated from the Premier League for the first time.
In Your Face
Most of the stories on this list are club related, but this one is very personal. It involves a City game, of course, but this one was unique for me.
Even as a kid, I loved a bet before a game, and my dad and I would always pick a first goal scorer or the correct score. We did not win all that often, but every now and again, City would score, so we'd at least have a chance. The game in question was against Chelsea in 1995. Before the match, we'd scoured the odds, and I'd picked, of all people, centre-back Alan Kernaghan to score at 33/1.
On went the bets. I bought my customary programme and headed down to our seats, which were in the second row in the North Stand, just to the left of the goal as you looked at it from the stand. As always, the players took to the field for their warm-up, with the odd wayward shot thrown in. Being alert as ever, I had an eye on any potential balls coming my way. There were none, or so I thought. It seemed that the warm-ups were finished, and players were leaving the field, so I started the programme's weekly quiz. Up steps a Mr Kernaghan for one last shot before heading to the dressing room, and yes, his shot went just to the right of the post as he looked at it. The next thing I knew, I had a Mitre Ultimax in my face, and, it being March, it stung like heck.
Kernaghan, for his part, was brilliant. He was over like a shot, checking that I was alright, and having negotiated a bit of a telling off from Helen Turner (the lady who rang the bell at Maine Road), he made his apologies and left. He went on to hit the post early on, and despite City taking the lead, they lost the game 2-1. I left the game thinking that would be the end of it, but….
….Not long after, I came home from school to a letter from City, signed by the manager at the time Brian Horton. The letter apologised for what happened, hoped I was alright and invited my dad and me into the changing room before the next home game against Sheffield Wednesday to meet the players.
As a nine-year-old, it was absolutely incredible. First, Brian Horton met us at the door, then we were free to spend some time with the players. I had photos with virtually every player in the squad, got autographs and generally had a bit of a chat – there was not one player who seemed inconvenienced by it. My favourite picture, though, undoubtedly, is one with Alan Kernaghan with him holding a ball in front of my face. City would win that game 3-2, so a good day all around!
Georgi Kinkladze
There was much excitement around Maine Road when the diminutive Georgian joined the club in July 1995 – and with good reason. At that time, there were very few players capable of beating a man at speed the way Kinkladze did, and those that could were very unlikely to sign for City. I have to give Francis Lee some credit here. Signing a player of this calibre for a reported £2m was something of a coup.
Kinkladze gave a hint of what was to come during two games against Wales in the qualifiers for Euro 96. Following their 5-0 thumping in TbilisiTbilisi, Wales keeper Neville Southall said of Kinkladze, "They murdered us… [Kinkladze] was different class and the best player on the pitch by a mile". In the return game in Cardiff, Georgia would win 1-0, with Kinkladze bagging the only goal. Picking the ball up midway through the Wales half, he advanced before lifting a 25-yard chip over the head of Southall, the ball just clipping the bar as it went over the line – sheer perfection.
Kinkladze made his debut for City in August 1995 in a 1-1 draw against Spurs at Maine Road. He was head and shoulders above everyone else on the pitch, a trend that would continue throughout his City career. Unfortunately, Kinkladze's debut season, despite his personal performances, was a disaster. City failed to score in eight of their first 11 games and would not record a league win (1-0 over Bolton) until 4th November. Kinkladze would bag his first goal for City later that month, another 1-0 victory, this time over Aston Villa. Kinkladze only managed four league goals, but one would go down in Maine Road folklore as one of the greatest ever scored. Facing Southampton, City won 2-1, with Kinkladze scoring both goals. His first, a tap-in after Nicky Summerbee's shot was parried, was nothing to write home about. His second was quite the opposite. Picking the ball up on the right-hand side, about halfway inside the Southampton half, Kinkladze slalomed his way through four Southampton challenges before lifting the ball deftly over the advancing Dave Beasant. It truly was a goal worthy of winning any game. It was a highlight in what was a bleak season for the club, which we will cover later. Suffice to say, City and Kinkladze would play their football at a lower level the following season.
In their first season in Division One, City could only muster a 14th place finish, despite preseason optimism that they could bounce back to the Premier League. Kinkladze, for his part, played a significant role in ensuring that it wasn't any worse. Despite being kicked from pillar to post most weeks, Kinkladze scored 12 league goals and put in some sparkling performances, particularly in away wins at Southend and Oxford. The Georgian ran the show, and it felt more and more inevitable that he would move on to bigger and better things at the end of the season.
Mystifyingly to many, Kinkladze stayed with City for another season, perhaps hoping that things would turn around, but in true City fashion, they didn't. They got worse. Kinkladze began to look less and less interested, seemingly regretting his decision to stick around. Once Joe Royle arrived as manager, Kinkladze was used sparingly, being viewed as something of an unnecessary luxury for a team fighting for their lives at the wrong end of the table.
At the end of the season, Kinkladze moved on, joining Ajax for a reported £5m. However, he never settled in Amsterdam and eventually joined Derby. On his return to Maine Road, he looked like a shadow of the player we had seen just a few years before, though he got a fantastic reception from the fans. After the game, I was lucky enough to spot the Derby team coach before it left the ground. We asked Darryl Powell, who was sat by an open window, if he could call Georgi over, and to his credit, he did. Kinkladze appeared almost immediately and was only too happy to shake hands before the coach pulled away. It was a simple gesture, but it has always stuck with me. Despite what they say, sometimes meeting your heroes does not end in disappointment.
Going down
It is a phrase that, even today, can draw a roll of the eyes and a heavy sigh from City fans…' Typical City'. You heard it a lot in the 90s. 'Typical City' would build you up, start to make you believe, then somehow throw it all away, usually in a bizarre fashion. City's first relegation from the Premier League in 1996 was no different. This really was 'Typical City'.
The season started abysmally, with City not picking up their first win until November, a 1-0 win over Bolton, so you'd be forgiven for thinking that relegation was inevitable, even at that stage. This, however, is Typical City. The blues went on a run of five unbeaten, including wins over Wimbledon, Aston Villa and Leeds, before being well beaten 4-1 at Middlesbrough.
By the time Easter rolled around, City was well in trouble but still had the opportunity to save themselves. A 3-0 defeat at Wimbledon put something of a spanner in the works, but consecutive 1-0 wins at home against Sheffield Wednesday and away at Aston Villa meant that City went into the final day with a chance. If they bettered either Southampton or Coventry's result, they would survive. All three teams were at home, with City facing undoubtedly the most challenging test against third-placed Liverpool. Coventry and Southampton faced Leeds and Wimbledon, respectively.
Things got off to the worst possible start with Steve Lomas scoring an own goal and Iain Rush tapping in to give Liverpool a two-goal lead and seemingly consigning City to Division 1. Being at the game, watching my heroes let me down again, I had got over the upset a bit. Half time allowed some reflection, and all would be ok because we would be back next season anyway (not quite how it happened, as you will see later).
With 70 minutes on the clock, Georgi Kinkladze was brought down in the box, gifting City a glimmer of hope. Uwe Rosler took responsibility for the spot-kick and duly reduced the arrears. Eight minutes later, Maine Road erupted when Kit Symons forced the ball home to restore parity. With twelve minutes to play, City needed one goal, and they'd be safe. But….
Somehow, word reached the City bench that Wimbledon had taken the lead at Southampton, and with just a few minutes to go, and as it stood, City were safe. Manager Alan Ball instructed the players to run down the clock, and with Liverpool under absolutely no pressure to get anything from the game (they were finishing third no matter what happened), they hardly made an effort to get the ball back. However, the reality was that both the Southampton and Coventry games were 0-0, meaning that City needed one more goal to stay up. It took the substituted Niall Quinn to sprint to the side of the pitch and relay the message that they still needed a goal, but it was all too late by that time. All three games finished in draws, and City were relegated on goal difference.
It was odd after the game. The serenity of halftime had passed, we had the chance to stay up, and we blew it. Even as a ten-year-old, I understood just how ridiculous the situation was. Relegated based on some dodgy information passed to the bench – dare I say…Typical City?
Five months, Five Managers
You would be forgiven for thinking this sort of thing was peak circus, even by City's standards, but worse was to come – as we'll see later.
Following City's relegation from the Premier League, and somewhat surprisingly, manager Alan Ball kept his job, whilst the club's only bit of real talent, Georgi Kinkladze, also stuck around. Their first season in Division One got off to the perfect start, with a 1-0 win over Ipswich Town, but two defeats in their next two games at Bolton and Stoke respectively signalled the end of the road for Ball, and he was sacked just ten days after that first win.
During his time at City, Ball oversaw a gloomy time for the club. Poor results, even poorer performances and a dislike of Ball's style from the terraces to the training ground have seen the World Cup winner go down in City folklore for all the wrong reasons. Stories from the time include him producing his World Cup Winners' medal on a journey home, shouting "Don't you talk to me about winning", whilst training was conducted via a deckchair and a megaphone.
Ball won just 26% of his games in charge, winning 13 of his 49 games. In that spell, there were also 14 draws and 22 defeats.
Following Ball's departure, club legend Asa Hartford took temporary charge, with results, to a point at least, picking up. Of his six league games, Hartford secured wins over Charlton, Port Vale and Birmingham but, at the same time, oversaw defeats against Barnsley, Crystal Palace and Sheffield United.
Hartford directed one of the club's greatest embarrassments as Third Division Lincoln City dumped the Blues out of the League Cup. In a two-legged tie, a near full-strength City would take the lead after just 40 seconds, but Lincoln would hit back with four unanswered goals. In the return leg at Maine Road, a team including Kinkladze, Clough, Dickov, and Rosler would lose 1-0, giving Lincoln a 5-1 aggregate victory.
On 7th October 1996, Steve Coppell was appointed as the next permanent manager. There was a renewed optimism around the club with the belief that, even though he was a former United player, he could take City in the right direction. However, in reality, he took a good look around, saw the mess that the club was in and ran for the hills, claiming that the stress of the job was too much for him.
Coppell took charge of just six games and was in the post for 33 days. During his incredibly brief spell, the shortest of any City manager in history, City recorded two wins, a draw and three defeats, the highlight being a 3-2 win at Southend, where Georgi Kinkladze would put on a masterful display.
After leaving City, Coppell would go on to spells with Palace, Brentford, Brighton, Reading and Bristol City before taking charge of three teams in the Indian Super League.
Coppell's departure saw another caretaker step in, this time in the shape of Coppell's assistant, former Liverpool fullback Phil Neal. To say that things didn't go well under Neal would be an understatement. Of his ten games in charge, City would win just two whilst losing seven of the other eight. Included in those were home defeats against Oxford, Tranmere and Port Vale. The performances under Neal left a lot to be desired, and going on such a poor run ensured that any hopes of bouncing straight back to the Premier League were well and truly ended – indeed, attention turned to the other end of the table.
At the end of December, City appointed yet another manager, this time former Newcastle and Nottingham Forest fullback Frank Clark. Clark was an accomplished player, having turned out nearly 400 times for Newcastle and over 100 times for Forest in the Football League, winning the European Cup under the legendary Brian Clough. In his 506-game league career, Clark scored just one goal, coming against Doncaster Rovers on 8th October 1973.
Clark arrived at City having recently left Nottingham Forest, where he had had some success. Taking over from Brian Clough, he won promotion at the first attempt before guiding the club to a third-place finish in their first season back in the Premier League. The following season, they would reach the quarter-finals of the UEFA Cup and finish a respectable 9th in the league.
Things started to sour for Clark, and he expressed concerns shortly before his departure that, with Forest bottom of the league, a board room spat between rival parties attempting to buy the club, was impacting his ability to manage the team.
Upon his arrival at City, it seemed he had brought some of the magic from his time at Forest. The club lost just one of his first ten league games, winning five and drawing the other four. A run of four straight wins between 2nd February and 1st March saw City score 13 times, conceding just twice, alleviating any fears of a second successive relegation.
In total, City lost just four games between Clark's appointment on 29th December and the end of the season. From fears of relegation, City eventually finished 14th, something of a miracle given the upheaval at the club during the season. They ended with a level goal difference and were, in fact, just ten points off the last playoff spot.
City went into their first full season under Clark in an optimistic mood. Results the previous season suggested that he might be able to turn the club's fortunes around, and the club backed him financially. Lee Bradbury was signed for £3m from Portsmouth, whilst Gerard Wiekens, Nicky Weaver and Tony Vaughan also arrived for a combined £2m.
Things didn't quite go to plan, as they tended to do at City. By the end of December, City had lost 13 of their 25 games and was staring firmly at a battle to survive in the division. Clark struggled with a bloated, mostly disinterested squad, which was reflected in fans' attitude, where boos could regularly be heard ringing across Maine Road. Nevertheless, Clark and City persevered with each other until February, when Clark was eventually sacked. His big summer signing having scored just two league goals, one fewer than his other major signing in Wiekens.
Going down….again
The 1997/98 season was City's second in Division 1, or the Championship as we know it these days, and despite a poor showing the season before, there was still a bit of optimism that we could turn things around and maybe challenge for promotion. The acquisition of Lee Bradbury, at the time a sought-after talent, added fuel to the fire. The reality, of course, was quite different, and the joke was that if you removed the Rs from Bradbury's name, you'd get quite an accurate description of him.
In true City style, much of the damage done this season was self-inflicted. Despite conceding fewer goals than all but two teams who finished outside of the playoff places (57), they only managed to score 56, leaving them with a goal difference of -1.
By the end of September, City had two wins, two draws and three defeats. Not great, but not terrible, with one of those wins being a 6-0 thrashing of Swindon Town. After that, things really took a downward turn, and by the turn of the year, City had only managed a further five wins, having lost ten in the same period, with three draws. Home defeats against the likes of Stoke City, Port Vale and Huddersfield would prove pivotal later in the season. The Huddersfield result, a 1-0 loss that would be Huddersfield's first away win of the season, would be a turning point for the fans. Cries of "You're not fit to wear the shirt" rang out across the terraces, and a 2,000-strong demonstration was held after the game calling for the resignation of chairman Francis Lee.
By the time manager Frank Clark was sacked following a home defeat by Bury on 14th February, City was deep in the mire. Former Oldham and Everton manager, and former City player, Joe Royle was brought in, in the hope that he could salvage the season and keep City in Division 1. The early signs were good, with City winning three of his first five games –one of two defeats, crucially, being a 3-0 loss at Reading, who would finish bottom of the table. Between the win at Huddersfield, Royle's fifth game in charge, and the end of the season, City would record just two more wins – one of which was a 4-1 victory over playoff-chasing Stockport County. Shaun Goater made a goal-scoring home debut in this fixture, and although his goals could not save City, 'Feeding the Goat' became a significant factor in City's eventual rise back to the Premier League.
City's last home game of the season was against relegation rivals Queens Park Rangers. A win for either side would go a long way to securing First Division football next season, with a draw being slightly better for Rangers. City got off to the perfect start, with Kinkladze opening the scoring in the first minute, but City old boy Mike Sheron netted an equaliser not long after. QPR took the lead thanks to one of the strangest moments I've ever seen at a football ground. A hopeful ball forward was easily cut out by City midfielder Jamie Pollock, who flicked the ball over the forward. He then proceeded to attempt to head the ball back to goalkeeper Martyn Margetson, got too much on the header and looped it just out of the goalkeeper's reach, the ball nestling in the back of the City net. Had it been at the other end, it would have made the Goal of the Season shortlist. City would equalise through Lee Bradbury, but it wasn't enough as City went into the final day knowing whether they stayed up was out of their hands. City would defeat the already relegated Stoke 5-2 on the last day, but ultimately it was not enough, and QPR survived by one point. This one point.
As a side note, a group of QPR fans reportedly voted Pollock the Most Influential Man of the Past 2000 Years in an internet poll, with Jesus Christ coming a close second.
Gillingham 99
It seems fitting to end this on something of a high, given the lurch from crisis to crisis that was Manchester City in the 1990s. In true City style, however, they almost…..ALMOST found a way to blow their opportunity.
Competing in the third tier and with average attendances comfortably over 25,000 for each home game, playing City was something of a cup final for many teams. As is to be expected, they played accordingly.
The season started well for the Blues, with just one defeat (3-0 at Fulham) in their first 11 games, and indeed for a time, they topped the table. However, following a 1-0 home defeat to Preston, the club embarked on a run of just three wins in their next 11 and by Christmas found themselves in the club's worst-ever league position – 13th in the third tier.
On Boxing Day, City visited Wrexham and ground out a 1-0 victory, with defender Gerard Wiekens notching the only goal. From that point, City would lose just two games before the end of the season – 2-1 home defeats against Wycombe and Oldham, and finished the season third, five points off second-placed Walsall.
That meant entering the playoffs, where they were joined by Gillingham, Preston and Wigan, who finished 4th, 5th and 6th, respectively. City faced a two-legged tie against Wigan, with the short trip to Springfield Park up first. This was the final competitive fixture at the stadium before Wigan's move to the JJB Stadium.
The whiff of 'Typical City' was in the air early that day, with Wigan taking the lead within 20 seconds. A throw-in went towards Gerard Wiekens, who stepped over it, expecting goalkeeper Nicky Weaver to take charge. Weaver, however, wasn't on the same wavelength, and Stuart Barlow nipped in to put the home side ahead. Paul Dickov would score a smart half-volley from a Michael Brown cross, meaning the tie would head to Maine Road for the second leg tied at 1-1.
The second leg will be remembered for two things—the stonewall penalty that Wigan did not get and the controversial goal that City did. The game's only goal came from Shaun Goater bundling the ball home with….something. Wigan players claimed it was an arm, but after some hesitation, the referee gave the goal. Even if we'd had VAR in those days, I doubt it would be overturned. It was just that unclear which part of Goater's anatomy forced the ball beyond Roy Carroll. It could well have been the 'Hand of Goat'. However, the man himself has always denied this. Given that Goater had quite the habit of bagging scruffy goals, I'd be inclined to believe him.
I had not held out much hope of getting a ticket for the final. But unfortunately, we did not have season tickets at the time, but by pure luck, someone my dad knew was going away, so we managed to secure our seats at Wembley to see the Blues face Gillingham to decide who would be promoted to Division One.
Overall, the game was a very tight affair, the type of game you'd expect from teams not accustomed to stages of such magnitude. Had the game ended 0-0 and gone to extra time, I doubt many people would have been surprised, but I doubt anyone foresaw the drama that was to unfold as the clock ticked round to the 81st minute.
Carl Asaba laid the ball inside to Paul Smith, who turned before playing a reverse pass in for the striker. Asaba struck the ball first time, lifting it beyond Nicky Weaver to give Gillingham the lead. Given everything previously covered, you'd think I'd expect this, but I did not. The day was not meant to be like this. We were not supposed to be condemned to another season in the third tier – then it got even worse.
Asaba turned from goalscorer to provider, backheeling the ball into the path of Robert Taylor. The burly striker took a touch before driving the ball beyond Weaver. Two goals in five minutes. Three minutes of time to play. It was over. I slumped in my seat, head in my hands. Typical City, yet again, built us up to knock us down.
The thing that will always stick with me is the bloke next to me. He tapped me on the shoulder and assured me that the game was not over and we would find a way. Sure enough, as injury time approached, City pulled a goal back. Shaun Goater was played in on goal. A brilliant challenge denied him, and somewhat cruelly for Gillingham, the ball fell kindly for Kevin Horlock to drill home from the edge of the box. Game on?
Into the last minute of injury time, with Gillingham pleading for the whistle, the ball was knocked forward, more in hope than expectation at this point. Gareth Taylor won the header, and the ball ended up at the feet of Shaun Goater just outside the box. Again he was challenged before he could get a strike away, with the ball rolling across to Paul Dickov. He took a touch to make some room before smashing the ball beyond Vince Bartram in the Gillingham goal. The City end erupted like nothing I'd heard before. My dad grabbed me from one side, the bloke from earlier the other, and honestly, I felt like I had touched the roof I went that high.
From utter despair to pure elation, then very quickly back to the nervousness from earlier in the day – After thirty more minutes of extra time, it came down to a penalty shootout.
Kevin Horlock was first up for City. A regular penalty taker, I wasn't that nervous seeing him step forward, and that confidence was well placed as he slotted his penalty into the left-hand corner, with Bartram going the other way.
Paul Smith took first for Gillingham. A poor penalty that Weaver saved with his legs – advantage City.
Paul Dickov stepped up next, again aiming to beat the best man at his wedding. But, this time, the post, both in fact, came to Bartram's aid as Dickov's penalty struck the woodwork before rolling back towards the taker.
Adrian Pennock was next up for Gillingham, skewing his kick horribly wide of the target.
Terry Cooke, one of few to have played on both sides of the Manchester divide, came next, sliding his penalty into the left-hand corner, beyond the despairing dive of Bartram.
John Hodge got Gillingham on the board, a great penalty to the top right-hand corner – even if he'd told Weaver where it was going, I doubt he'd have stopped it.
By this point, nerves were jangling. The First Division seemed so close, yet you knew that one miss would blow things wide open again. Richard Edghill strode forward next. A man who was blue through and through but had always seemed to be the scapegoat when things were not going so well. There was a sharp intake of breath as he stepped up. Edghill went high, for an excruciating half-second, I thought too high, the ball clipping the underside of the bar as it went in. The relief was palpable, and as he danced away, Edghill planted a kiss on his City badge. It's a shame that the fans did not love him in the same way he did the club – but that day, I was chuffed for him.
Guy Butters came forward for Gillingham, knowing he had to score to extend the shootout. If he missed, City would be promoted. The booing and whistling seemed to intensify even more as he stepped up, then as the ball bounced back off Nicky Weaver, pandemonium ensued. City was back in Division One.
I made sure to take in as much as I could as Andy Morrison strode up to receive the Playoff Trophy. I did not think I had much chance of seeing City lift another trophy at Wembley.
End of the 90s – End of 'Typical City'?
Not quite. Even today, with the Sheikh's billions, a squad of superstars and the now seemingly annual additions to the trophy cabinet, those of us who lived through those times can still see 'Typical City' in there, hiding away, waiting to jump out and destroy our dreams yet again. That little monster has tried a couple of times, most notably in 2012. We all know the details, we know how it ended, but 2-1 down against ten-man QPR with just seconds on the clock, you bet that phrase was banded about the Etihad that day.
I do not think it will ever leave, either. It's something we learn to live with. No matter the situation or how steeply the odds are stacked in our favour, there will always be that little voice saying, "But it is City….". The 90s were hellish in football terms. The club we love put us through the most trying of times – but I can say this, I would not change it for the world. It's part of the fabric of not just the club but the fanbase. It makes every success that little bit sweeter – and long may that success continue.
Sometimes we're good and sometimes we're bad but when we're good, at least we're much better than we used to be and when we are bad we're just as bad as we always used to be, so that's got to be good hasn't it?

Mark Radcliffe, bbc radio presenter speaking in 2001